Introduction: A Beginning's End
Shahrokh Nael was born in Iran in the 1960's – a child to one of the world's oldest cultures shaped by a period of extraordinary and unpredictable socio-political unrest. Embroiled in a Herculean tug-of-war between the modernising but intrusive influence of the world's Western economic powerhouses and its own native Islamic conservatism, the ancient kingdom was a crucible for ferocious change.  Stirred by these capricious shifts in national identity, Shahrokh was irrevocably drawn to the creative arts as a means of deciphering and expressing the emotional undercurrents permeating his nation's heartland at this time.
As a junior apprentice at two of Tehran's most creative ateliers, Shahrokh was a diligent student of oil painting – focusing his keen eye and prolific hand on the formulation of landscapes. Eager to hone his craft and develop his gifts to their highest potential, he initially emphasised the practice of exacting, orthodox painting techniques – becoming a highly skilled artist in the traditional mould.
The mounting political pressures within his homeland proved stifling for creative exploration, however – and amidst the escalating abuses of its government, he fled the region to pursue more fertile artistic ground elsewhere. Determined that his creative work should reflect this searing and fervent sense of spontaneity, Shahrokh destroyed most of the pieces he'd produced in Tehran – leaving his past behind him as he embarked upon an exhilarating bid for freedom.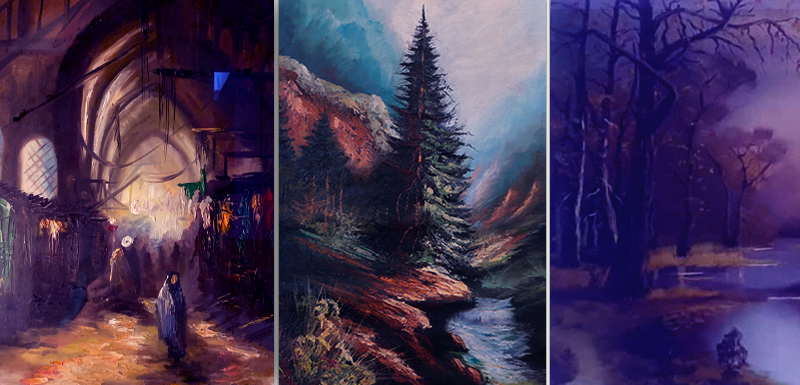 Three of Shahrokh's formative landscape paintings – preserved by collectors prior to the destruction of their accompanying works
Now, 40 years later, Nael grasps the opportunity to meditate at his figurative viewing window – taking a reflective glance over the psychic terrain that he has traversed from that day to this.
Expressing Vigour:
Examining the Artwork of European Seers
Whilst training under the tutelage of his gifted mentors in Tehran, Shahrokh was introduced to the work of a variety of European artists – being particularly enthralled by the compositions of Pablo Picasso. These indefinable creations, in turn, led him to explore the collections of Paul Cézanne, Henri Matisse and Paul Gaugin – each of which planted seeds of inspiration within the young artist's mind which continue to blossom to this day.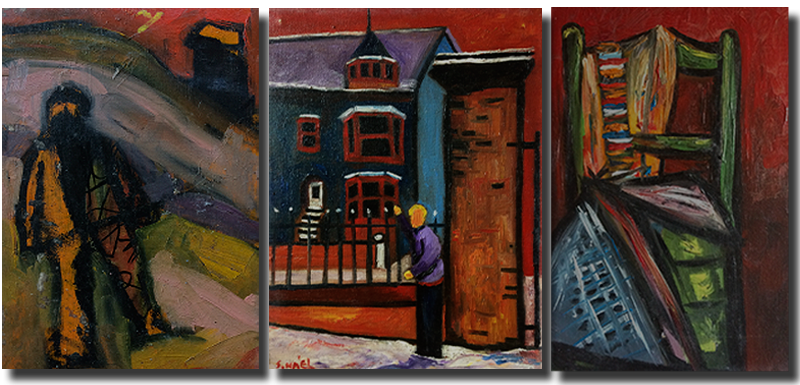 It was the influence of these visionary explorers of light, colour and texture which informed Shahrokh's understanding of the European expressionist and post expressionist movements – compelling him to become evermore spirited in his own creative exploits. The following paintings belong to a collection which reflects Nael's ongoing fascination with this medium – depicting scenes bristling with emotion – using energetic brushstrokes to feather the canvas with bold, contrasting colours.
Art in the Present Moment
Having settled in Manchester in the UK, Shahrokh immediately began to carve out an idiosyncratic niche for himself within the city as an innovative artist and filmmaker.  Steering away from the prescriptive techniques he learned as a landscape painter in Tehran, Nael gravitated towards more intuitive ways of articulating his creative vision – increasingly shaped by the abstract expressionism of Franz Kline, Philip Guston, Antoni Tàpies and Robert Motherwell.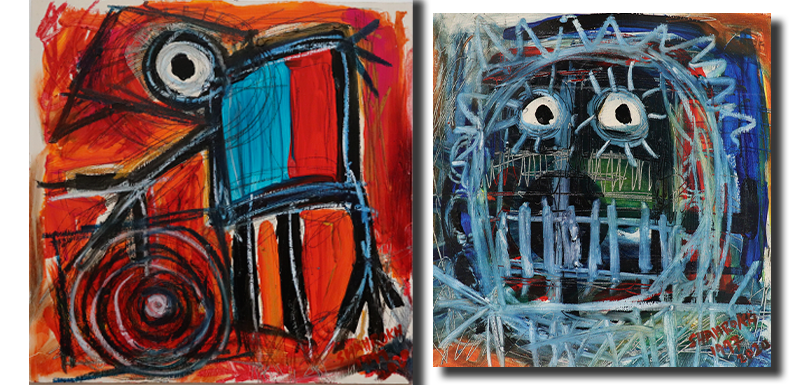 These images constitute Shahrokh's odes to the abstract expressionist greats
Whilst living under the heady weight of the UK's Covid 19 lockdown, Shahrokh then stumbled upon the Landscape Artist of the Year television programme on the SkyArts channel. Never one to sit idly by when he could be cultivating opportunities to express his creative inclinations, Shahrokh had used this time to further his work – continuing to develop his distinctive style as he persevered with numerous projects in his studio.
Enjoying the programme immensely, Shahrokh submitted an entry from his personal sketchbook to be considered for the competition for the following year – and was greatly appreciative when he was selected out of over 2000 applicants to participate in the forthcoming show. Delighted to be nominated – but more concerned with the furtherance of artistic expression than with egoistic opportunities for self-promotion or the receipt of accolades, Nael's appearance on the show was typically humble.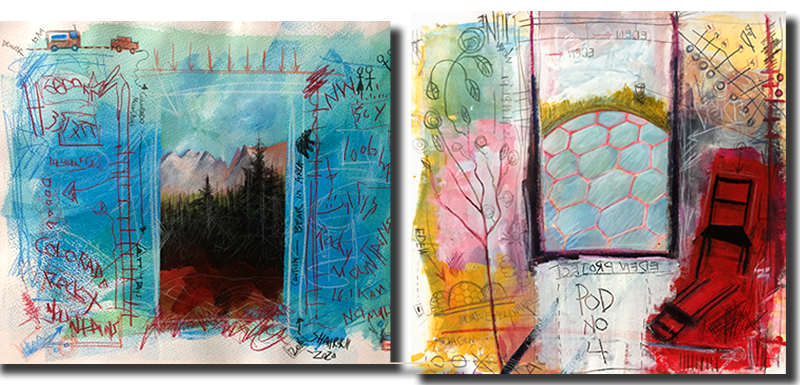 Above – Shahrokh's submission for the Landscape Artist of the Year – and the painting that he produced as a participant on the show
Emphasising that his motivation in participating was to capture his experiences – both those reflected within his most recent pieces and to make a living, breathing work of art of his appearance on the show – Shahrokh used this opportunity to place emphasis on the primacy of creative expression, as he always does. It is this exploratory adventure that continues to invigorate him whenever he places pencil to paper or paintbrush to canvas – and it is these magical wanderings into the artistic wilderness that he seeks to capture within his otherworldly window frame.
Written by Kevin.J.L.
Date of Publication: 03/01/2022